Improving the Power Grid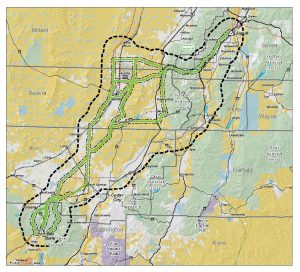 PacifiCorp is one of the West's leading utilities, serving approximately 1.7 million customers in six states. The 160-mile Sigurd to Red Butte Transmission Line consists of a new, single-circuit 345,000-volt (345 kV) transmission line connecting the Sigurd substation, located approximately six miles northeast of Richfield in Sevier County, Utah, to the Red Butte substation, located southwest of the town of Central in Washington County, Utah.
Paragon provided: Project Management, Acquisition of Rights of Entry, Permit Acquisition, Right of Way Acquisition, Landowner Notification, Construction Liaison, GIS Services, Document Management, Title Services, Escrow Coordination, Condemnation Support, Appraisal Services, Progress Reporting, Scheduling, and Tracking.